Healthy families start with healthy parents.
It's an enormous feat to have a child – one of physical, emotional, and psychological endurance. Pebble gives this crucial transition the attention it deserves, by offering expert guidance for the postpartum parent.
While all eyes turn to baby, we keep ours on you. Together, we make sure you're healthy and supported, so you can focus on what matters most.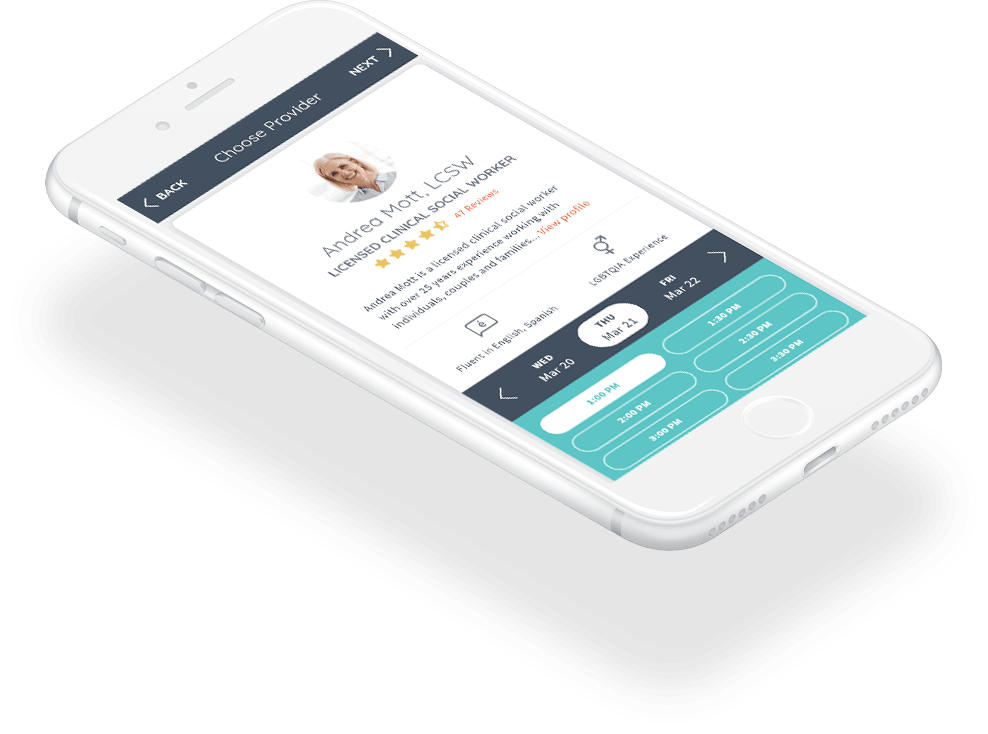 Connect anytime, from anywhere.
Our provider network boasts thousands of years of collective experience so you can parent with confidence. Video chat with our licensed, certified, and vetted experts to get guidance when you need it.
Join

Create an account and tell us what you need help with. You'll be recommended specialists with expertise in your unique issue.

Schedule

Choose from the recommended provider profiles and schedule a time that works for you, all from within the app.

Chat

Video chat with your provider from your phone or computer. They'll follow up with a summary of your consult & next steps.
Partner with the nation's best experts, specializing in perinatal care.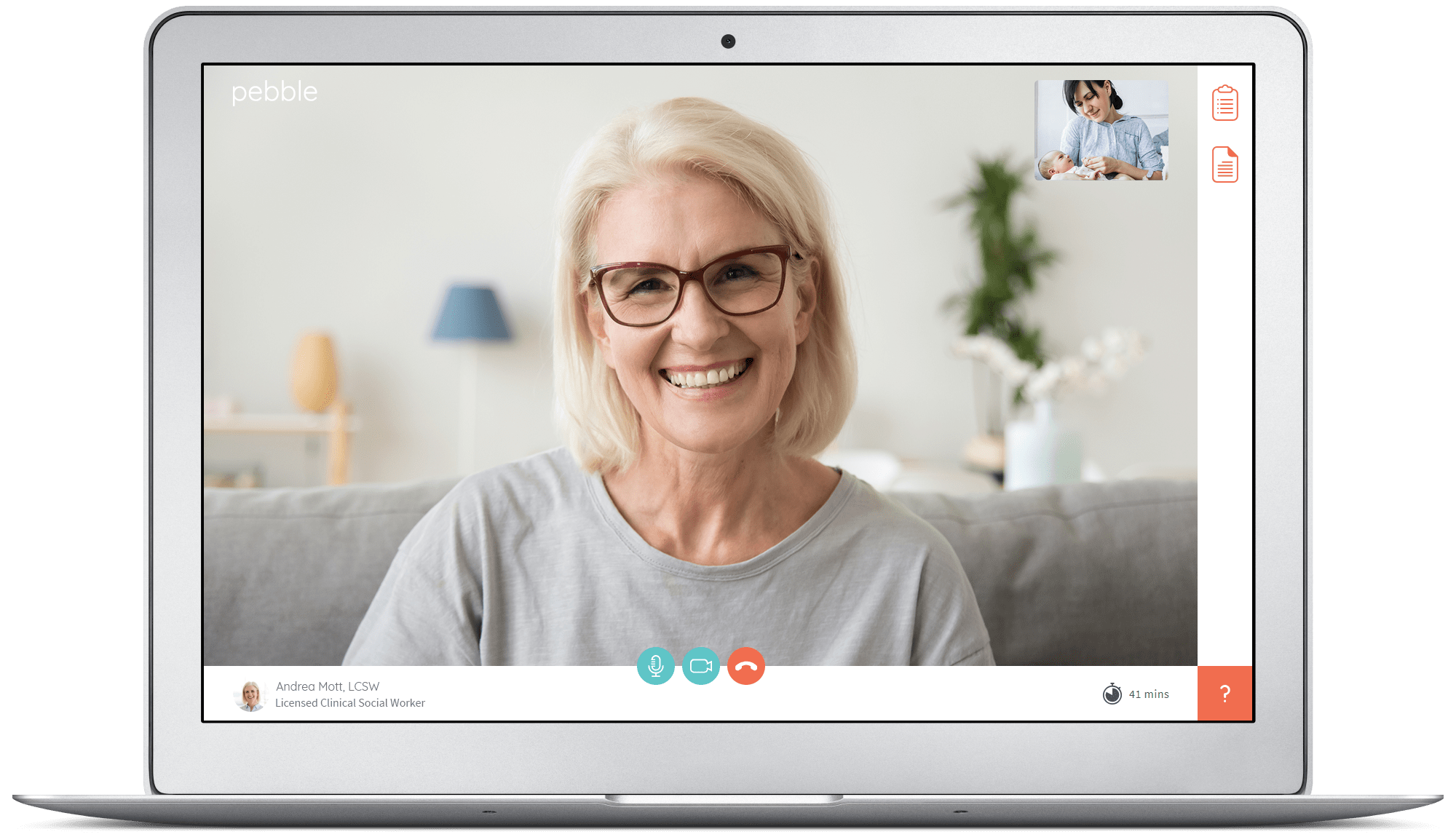 Pregnancy & Postpartum
While you focus on the baby, let us focus on you. Partner with our experienced perinatal specialists to meet your pregnancy, labor, and postpartum goals.
Commonly Discussed
Labor Preparation
Prenatal Wellness
Second Opinions
Postpartum Healing
Hernia & Hemorrhoids
Post-Surgical Concerns
Breastfeeding
Breastfeeding issues demand immediate attention. Our lactation consultants are all vetted, rigorously trained, and IBCLC-certified. You can do this. We can help.
Commonly Discussed
Milk Supply
Nipple Pain
Baby's Weight Gain
Breast Pumps & Bottles
Returning to Work
Plugged Ducts / Mastitis
Sleep Coaching
Your baby needs sleep. You need sleep. We get it. Our veteran sleep coaches will help develop a strategy based on your family's unique needs.
Commonly Discussed
Sleep Plans
Sleep Environment
Breastfeeding Schedules
Bedtime & Nap Routine
Wakeups & Regressions
Traveling
Mental Health
Becoming a parent is a seismic shift, and being a parent is one of the toughest jobs there is. Our licensed clinicians are here to help both mothers and fathers navigate these transitions.
Commonly Discussed
Stress & Anxiety
Postpartum Depression
Couples
Pregnancy Loss
Sexual Functioning
Traumatic Birth
Physical Therapy
Parenting can have lasting effects on the body, from carrying our children in pregnancy to carrying them in our arms. Our PTs specialize in perinatal care, so you can feel yourself again.
Commonly Discussed
Back Pain & Sciatica
Postpartum Healing
Urine Leakage / Incontinence
Core & Pelvic Floor Rehabilitation
Sexual Discomfort
Pre & Post-Partum Exercise
Women's Health
You deserve care of the highest caliber, tailored to a woman's unique needs. Our skilled network of practitioners offers everyday medical support whenever you need it.
Commonly Discussed
Cold & Flu
Family Planning
UTI & Yeast Infection
Sexual Health
Breast Health
Pelvic Pain
Pebble Complete Care
Join an exclusive group of women, pioneering the next generation of maternal healthcare.
---
Introducing one-on-one, comprehensive, managed care through the fourth trimester. Our first-of-its-kind, 18-week program will partner you with a dedicated postpartum medical expert to oversee your recovery from birth and successful transition to motherhood.
We're certain you've never experienced care like this.
Accessible

Help when you need it, where you need it. At a price new families can afford. No surprise fees, ever.

Specialized

No Google rabbitholes or advice from people you don't know. Speak to real live humans; specialists trained to address your unique circumstances.

Secure & Confidential

Our technology is HIPAA compliant and your consults remain 100% confidential, just like an in-office visit.
Pebble is a movement. You are innovating to make basic human care accessible and appealing; you are changing a culture! I'm grateful that this, of all things, is your mission!

While our society tends to solely focus on the health of the baby in the postpartum period, every mother experiences physical impacts of pregnancy and birth, and could benefit greatly from professionally guided postnatal recovery. Pebble makes that care easily accessible and enjoyable to new mothers.

The weeks following birth are a critical period for a woman and her infant, setting the stage for long-term health and well-being. To optimize the health of women and infants, postpartum care should become an ongoing process, rather than a single encounter, with services and support tailored to each woman's individual needs.
Frequently Asked
Throughout history, new parents were ushered into their new roles with the support of family, community and health practitioners. Today, new parents are largely left on their own to navigate the transition to parenthood, with unrealistic expectations of "getting back" – to work, to a pre-pregnant body, to an exciting sex life, to "normal." This seismic shift in identity impacts a parent physically, emotionally and socially, and our society has yet to acknowledge that reality. Pebble is on a mission to change that. We honor all you've already done to get here, and acknowledge that what comes next is anything but "normal" as you once knew it. It's beautiful, it's messy, it's miraculous, it's exhausting, and it's entirely unfamiliar. You are built for this, but none of us should do it alone. Let us help.

We are committed to providing an expert network that exceeds expectations. Our experts are all licensed, certified, vetted specialists in their respective fields, and are also compassionate, open-minded caregivers with a passion for parent-centered care. Most of our experts have been individually handpicked by us, or came to us from personal referrals. That means we only partner with experts people are raving about. All experts undergo a rigorous application and interview process to ensure we only connect you to the best.

Because quality, customized care should be accessible and convenient. When needed, our providers will refer you to an in-person visit.

We believe in the importance in providing tools to help facilitate continuity of care. After each consult you'll have access to a downloadable summary of your provider's session notes, which you can easily pass on to another care provider as you wish.

Pebble is for hopeful, expecting, new, and seasoned parents. Our experts can help you navigate everything from planning a pregnancy to postpartum healing, even general women's health. It's not just for mothers, but also for partners. All families look different, and we support all families regardless of race, religion, gender, or sexuality. We support LGBTQIA, single parents, and adoptive parents. If you have a baby, you have a family, and we're here to support you.

Absolutely! Because you have control over who you consult with, you can always hold another consultation with the same provider. Our system makes it easy to schedule a follow-up at any point.

One of our central goals at Pebble is to make postpartum care accessible to all, without compromising on the quality of care provided. Each consultation is priced at a flat rate, so you always know what to expect. See the table below for our current rates.

Consultation Rates:

Women's Health (15 min) $29
Pregnancy & Postpartum (30 min) $55
Breastfeeding & Lactation (25 min) $69
Mental Health (50 min) $125
Sleep Coaching (approx. 90 min) $335
Physical Therapy (30 min) $69

Pebble accepts FSA/HSA payments. Check with your plan for eligibility.

Certified nurse-midwives are specialists in prenatal, birth, postpartum and well-woman's care. They are registered nurses who hold, at a minimum, a masters degree in midwifery. They can diagnose and treat patients independently, including ordering tests and prescribing medications.

The midwifery model of care emphasizes an evidence-based, individualized, and collaborative care experience, and seeks to promote a true patient partnership. While most certified nurse-midwives do focus on pregnancy and postpartum care, they also care for women across their lifespan – from adolescence to menopause. That means patients can see a midwife for gynecologic and family planning services, preconception care, care during pregnancy, childbirth, and the postpartum period, breastfeeding support, newborn care, and so much more.

Pebble accepts FSA/HSA payments. Check with your plan for eligibility. At this time, Pebble does not participate with any insurance providers.

You can extend any consultation, pending the provider's availability. You can also schedule a follow-up with the same provider at any time.

Pebble's platform is designed to find you the best expert for your specific needs. Our proprietary algorithm recommends experts based on your concern and location, as well as the expert's specialties and experience. Browse through their profiles to get more details about their experience and approach, then choose a time that work best for you.

Yes! It is a meaningful gift to new and expecting parents that is sure to be appreciated. Please see our services page to see what services we offer and to start the gifting process.

Absolutely! This is an excellent way to enable loved ones to support you in other meaningful ways. All of our services have an "Add to Registry" button with further instructions.

No problem! Our Member Support team is standing by to assist. They'll get you into the right hands in no time – just get in touch.

No need! Pebble behaves just like an app, but is accessed like a website. (We refer to it as a "web app.") No download means more room for the things you care about! (Ahem, baby pics.) If you have an iPhone or iPad, just use Safari and bookmark us for easy access. If you use Android, we recommend Chrome. As a bonus on Android, you can install our web app directly to your home screen just like your other apps (we'll guide you through it, don't worry).